Sprowt Vitamin B12 Tablets Information
Sprowt Vitamin B12 Tablets is an ayurvedic medicine that is primarily used for the treatment of Iron Deficiency, Anemia, Fatigue, Vitamin B12 Deficiency. The key ingredient of Sprowt Vitamin B12 Tablets is Vitamin B12. The properties of which have been shared below. The correct dosage of Sprowt Vitamin B12 Tablets depends on the patient's age, gender, and medical history. This information has been provided in detail in the dosage section.
Ingredients of Sprowt Vitamin B12 Tablets
Vitamin B12

Drugs that act on the immune system to modify immune response

Drugs that calm nervous excitement.

Substances which stimulates the formation of blood and are used for treatment of anaemia.

Cellular growth enhancing agents that maintain body functions.

Agents that repairs any kind of nerve damage to maintain their proper functioning.

Substances that enhance the strength of the body by supplying enough nutrients.

Agents that hydrate the skin and improve overall skin quality.

Agents that help rejuvenate the texture and strength of hair.
Sprowt Vitamin B12 Tablets Benefits
Sprowt Vitamin B12 Tablets is used to treat the following -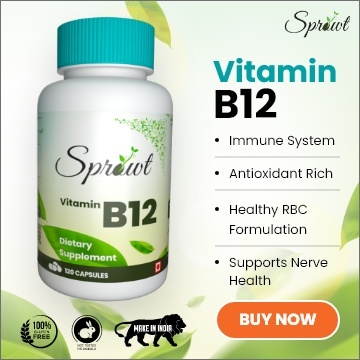 ---
---
Sprowt Vitamin B12 Tablets Dosage
This is the usual dosage recommended in most common treatment cases. Please remember that every patient and their case is different, so the dosage can be different based on the disease, route of administration, patient's age and medical history.
Age Group
Dosage
Adult

General: Use prescribed amount
Before or After Meal: After Meal
Single Maximum Dose: 1 Capsule
Dosage Form: Capsule
Dosage Route: Oral
Frequency: BID (twice daily)
---
---
Sprowt Vitamin B12 Tablets Side Effects
No side effects of Sprowt Vitamin B12 Tablets have been reported in the medical literature. However, you should always consult your doctor before using Sprowt Vitamin B12 Tablets.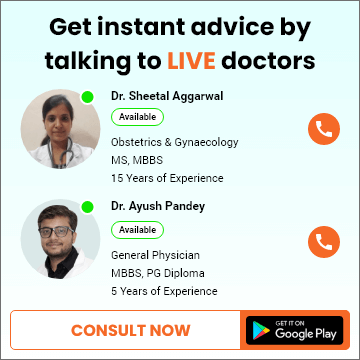 ---
---
Sprowt Vitamin B12 Tablets Related Warnings
Is the use of Sprowt Vitamin B12 Tablets safe for pregnant women?




Side effects of Sprowt Vitamin B12 Capsules during pregnancy are not known because scientific research on this topic hasn't been done.

Is the use of Sprowt Vitamin B12 Tablets safe during breastfeeding?




Side effects of Sprowt Vitamin B12 Capsules for breastfeeding women are not known. This is because research work on this has not been done.

What is the effect of Sprowt Vitamin B12 Tablets on the stomach?




Sprowt Vitamin B12 Capsules is considered safe for the stomach.

Is the use of Sprowt Vitamin B12 Tablets safe for children?




There is no research available on the side effects of Sprowt Vitamin B12 Capsules on children. Therefore, its impact is unknown.

Can I take Sprowt Vitamin B12 Tablets with alcohol?




Due to lack of research, there is no information about the side effects of taking Sprowt Vitamin B12 Capsules with alcohol.

Does Sprowt Vitamin B12 Tablets cause drowsiness?




Sprowt Vitamin B12 Capsules does not cause dizziness or drowsiness, so you can drive a vehicle or operate machinery also.

Is this Sprowt Vitamin B12 Tablets habit forming or addictive?




Regular use of Sprowt Vitamin B12 Capsules does not lead to addiction.
---
---
Know about customer reviews
Kishwar
I purchased for my mother. She used to have anaemia issues. After taking the pill for last 30 days she feel much better and doesn?t feel any tiredness and seems like have better haemoglobin levels. It?s really working well.
Laalitya
Since I have started taking sprowt, I am full of energy every time throughout the day.
Ahab
Vitamin b12 is always good for improving your cardiovascular health, boosting immunity, improving bone health and more. sprowt supplements are the best thing that one can use to reap all the benefits. The product is just too good!
Laiba
sprowt b12 vitamin is no doubt one of the best softgel capsule supplements offered by this brand. It is great for boosting your immune system and improving your muscle strength. I just loved it!
Lubabah
One of my family members used sporwt b12 and he suggested that I get one for myself as I was suffering from some health problems . Have been using it for a while now and I really like the way it helped to reduce my fatigue and also improved my bone health.
Kausik
I have been using Vit b12 60 caps for around a month now and it really helped optimizing my muscle strength as well as improving my bone health. This product is great for reducing fatigue as well.
Kahini
Sprowt b12 come with nice packaging available at a budget friendly price. I bought it for me when I was pregnant after doctor consultation and witnessed amazing results.
Indamira
Great product at the best possible price. I have purchased it for the second time to get some very effective results, including improved stamina and better immunity.
Kalaivani
I was feeling weak for quite a long time. Doctor told me there was a lack of iron in my blood and advised me to have sprowt b12. I admit that I am no longer feeling weak than I used to feel.
Jivita
Always been a great fan of sprowt products. This time using sporwt b12 as my doctor consulted me. This one is nothing less than awesome.
Kamalmeet
The sprowt b12 contains various immune boosting minerals. I have only been taking it for a month from now and see positive changes in my energy.
Ishka
I have started taking sprowt b12 since I was three month old pregnant as per my doctor's suggestion that helped me to spend less painful times till delivery.
Afsana
I have been using these capsules for quite some time and have benefitted health wise from this product.
Jagatmeet
I realized i had anemia when people said I had pale skin and I would feel fatigued all the time, B12 from sprowt has been a game changer, showed results within a month and no side effects too
Afsa
Wonderful medicine. Must for every citizen.
Karthick
It really works , you'll find results within weeks
Jnyaneshwar
Ideal for anybody with either low Hemoglobin even though Hemoglobin is normal.
Ajitabh
it's a very good product and very very effective. I just love this product, going to buy this again and again. Guys you all can also order this without any hesitation.
Jaipreet
Price and Delivery - Wonderful
Karen
I started taking sprowt b12 tablet before my pregnancy as my doctor suggested me.
Kimimela
Instant delivery and good product ,I always prefer sprowt for healthy products
Ipsita
Excellent product ! It has already been almost 6 weeks, me taking the supplement. Two days ago I went for a blood test. My doctor was surprised to see my improved haemoglobin and iron level in my body.
Imsaal
Bought this for my son who had started experiencing body weakness...it really helped improve his hair health
Izaz
I bought sprowt b12 for improving my overall health...i have seen a positive change
Kavya
I have brought this product for my husband and my mother in law, it is a great product, we could eat in our daily diet usually.